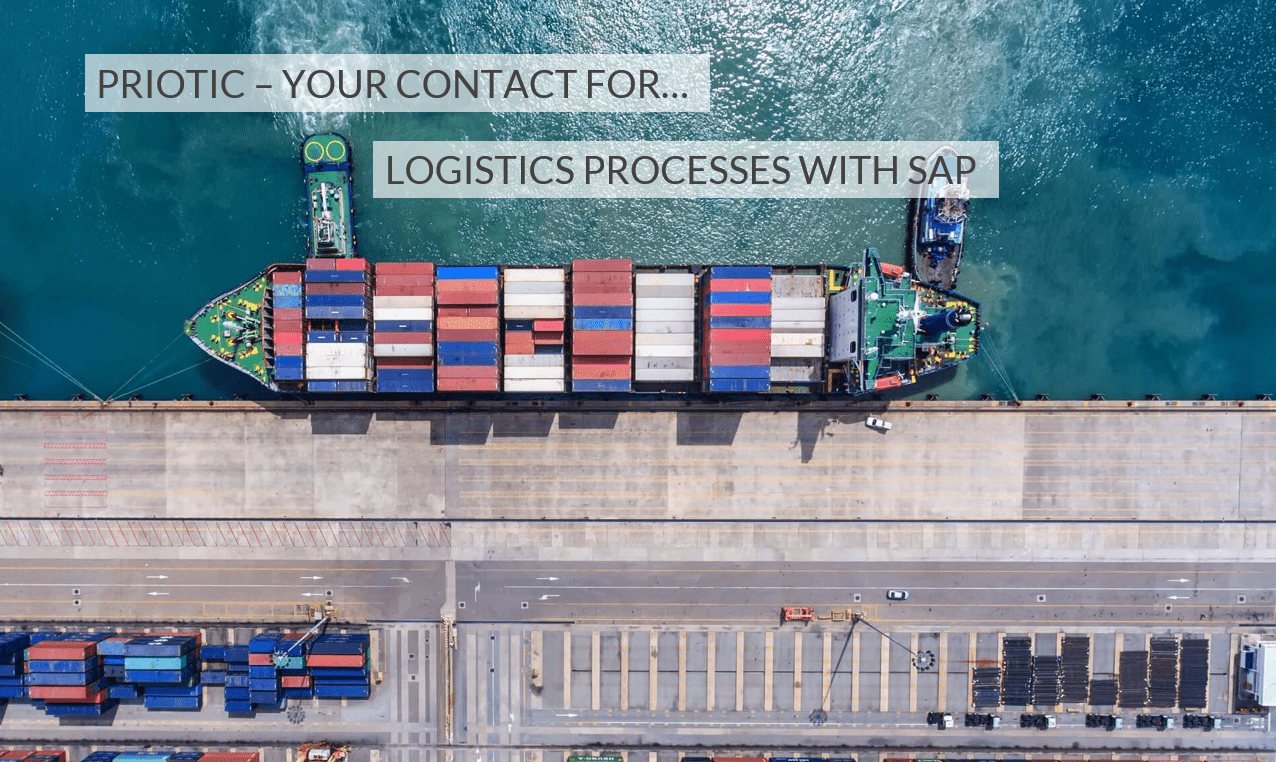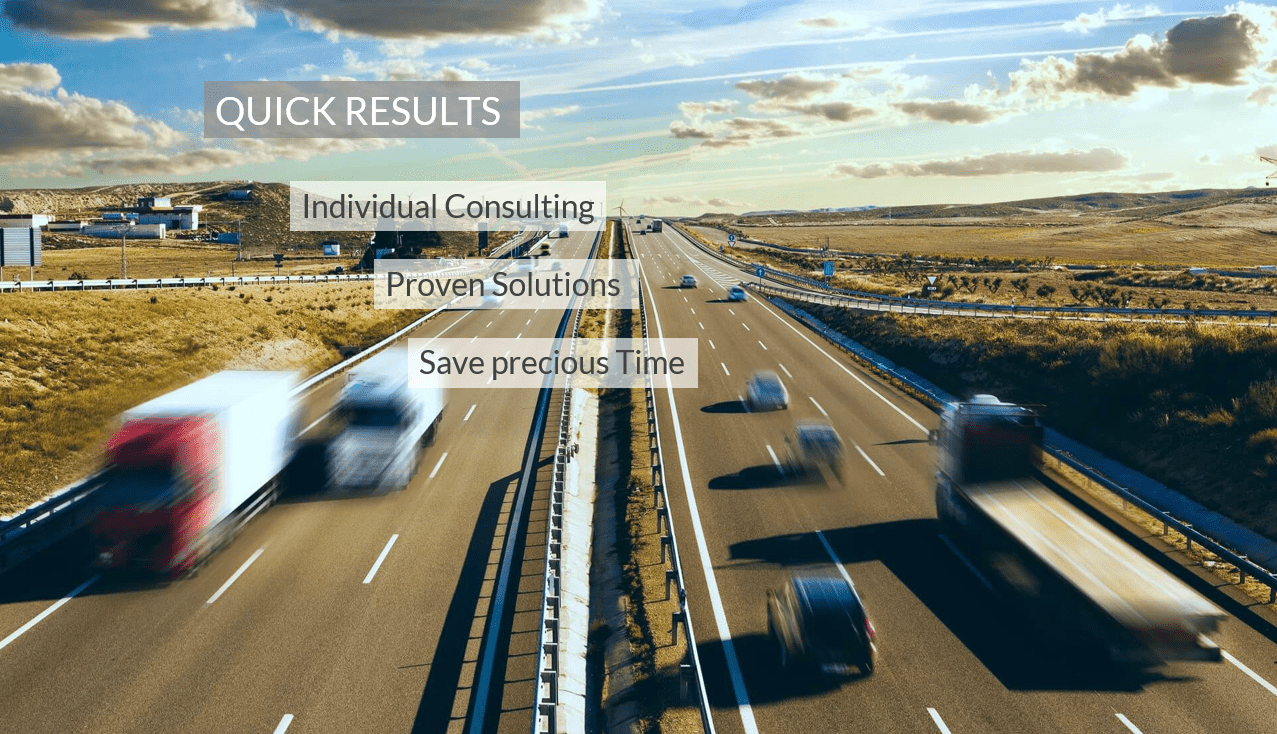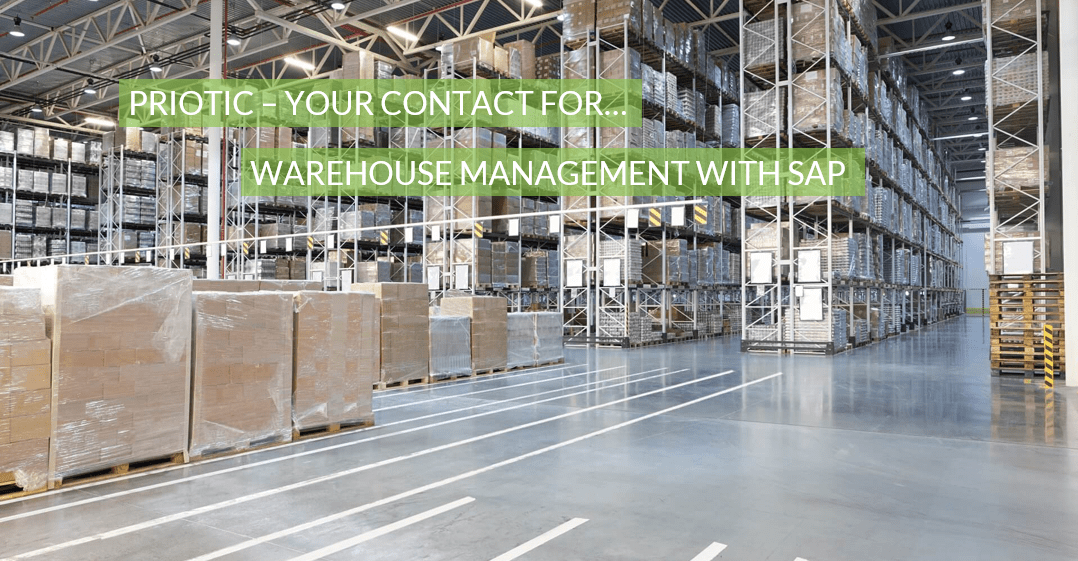 Priotic GmbH stands for efficient and future-oriented logistics. Our goal is to support companies in the digital transformation of all logistics processes and to prepare them in the best possible way for the challenges of tomorrow. We focus entirely on new technologies around S/4HANA and SAP EWM. That's why we have made it our business to complement traditional applications with the help of current SAP solutions, or to analyze your existing processes and work with you to find the right strategy for the transition.
Logistics is our driving force. We see ourselves as a catalyst for your intralogistics. Our team of highly motivated employees is able to achieve results quickly, even for complex tasks. We focus on the transformation of conventional logistics solutions into future-oriented systems based on current best practices. With our logistics migration, we have developed a methodology to ensure a smooth transition. Your existing processes will be simplified and accelerated at the same time. We would be happy to explain to you in a personal conversation how you can benefit from this.
VOICE CONTROL
Voice Control
SAP EWM warehouse control center with integrated voice control
The Priotic warehouse control center with its combination of control console and voice assistance enables fast and efficient control of your processes and immediate access to the most important key figures of your logistics.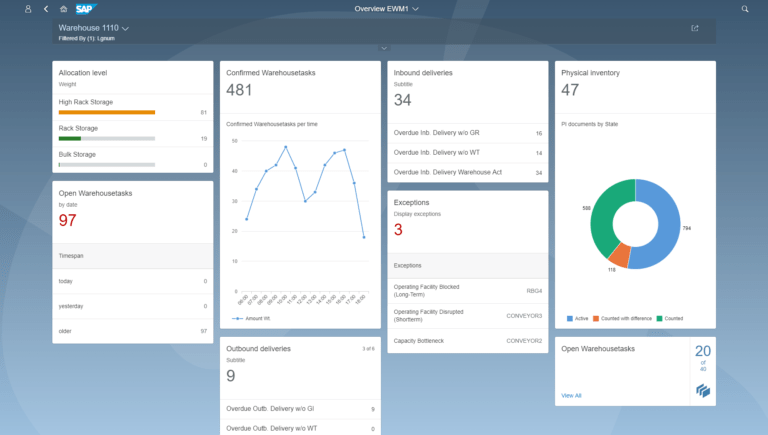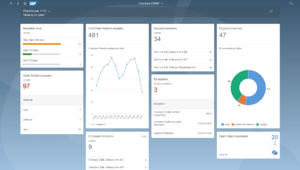 The SAP Fiori-based dashboard provides a comprehensive overview and can output the key figures you need via voice control. Alternatively, you can use voice commands to perform actions without having to call complex transactions on the computer. The use of SAP Fiori technology allows the dashboard to be extended as needed. This makes it easy to display any customer-specific key figure. Get immediate answers to important questions that affect business operations without long preparation. The system generates a daily summary with all important key data and news so that you can start every day in the best possible way.
Control and voice commands
Together with you we create a language model that is exactly tailored to your needs. Choose from a variety of ready-made dialogs that can be modularly combined with each other. Contextual queries such as last week's, last month's or last quarter's key figures can also be easily accessed. You can also send voice messages for internal communication or connect directly to colleagues.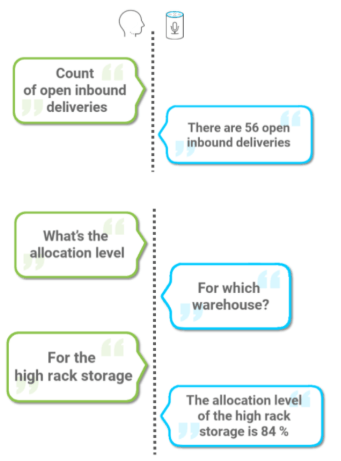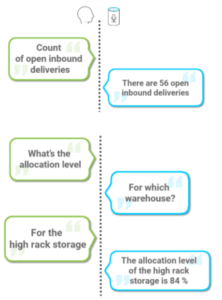 Single-level queries
Ask a question about a specific key figure or enter a command for a warehouse action defined in the language model. The warehouse dashboard responds immediately with the requested information on the current status or executes the desired action.
Multi-level queries
Start a dialog in which more information is collected and context-related questions are then asked by the voice assistant. In this way, even complex interactions can be carried out quickly and purposefully. A multi-level conversation is required if you want to perform nested queries or actions.
Constant availability of key figures
Call up important key figures at any time without having to invest a lot of time in compiling them beforehand.
Open Warehouse Taks
Open Inbound or Outbound Deliveries
Disruptions of the material flow system
Total number of picks
…and many more
---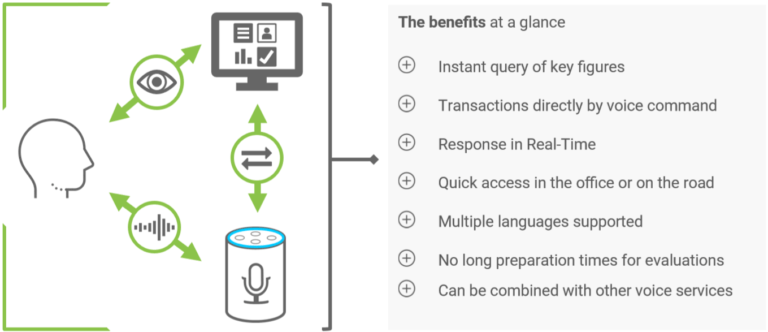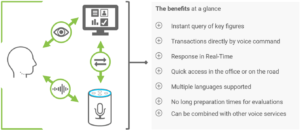 ANALYSIS
Logistics Benchmark
Whether simplifying complex logistics processces or replacing your existing IT solution, we will evaluate your current situation together with you. We look at the current situation and document your entire intralogistics chain. The analysis of dependencies to connected third-party systems is also a crucial factor in guaranteeing a perfect integration of your new SAP solution.
We will show you hidden potentials and work out a plan for restructuring and improving all of the existing workflows. As a result of this analysis, we will provide you with a proof of concept, which forms the basis for all further steps.
CONSULTING
Consulting
We will advise you during the digitalization of your business processes as well as during the transformation of existing processes into a new SAP landscape. Our competent consultants are always at your side when it comes to integrating new SAP logistics modules into your existing system landscape. We work with you to develop strategies for a smooth implementation of the processes within your organization. By integrating SAP Best Practices into your existing landscape, complex and time-consuming processes will be updated and simplified.
Ready for future requirements
Industry 4.0 and the Internet of Things are topics for any competitive company. We will advise you on how to become fit for the future. Optimal business processes are the basis for an ideal integration of man and machine. Become a pioneer in these trends with processes from our experts. With Priotic as a partner, growing challenges are not an obstacle in the future.
IMPLEMENTATION
Implementation
If you have chosen an SAP solution, we will be happy to help you align the system to your company's needs. The configuration of the SAP standard software is carried out by our specialists on the basis of established best practices. If the configuration options do not completely cover your requirements, we are happy to offer you customized developments. Our SAP experts perform fine-tuning of your system according to your requirements.
Rollout
We assist you in all phases of the rollout to make your project a success.
Testmanagement
Fully tested software is essential for a successful go-live. Together with you, we will create a detailed test catalogue to check every business process in its smallest form. We take over test management and coordination for you, so that your employees can fully concentrate on the core processes.
Training
The most important basis for a successful go-live is formed by carefully trained employees. Through targeted training courses, we offer your employees the necessary know-how to meet the demands of their daily routine. By offering individually tailored training courses, we ensure that your users are optimally prepared at the time of conversion. Join us in minimizing the risks when switching to your new supply chain solution. Our approach is to involve your employees in the early stages of the proect, in order to use the test procedures as a method for knowledge transfer. This ensures that your employees are familiar with the new solution and that the cut over runs smoothly.
Go-Live
Of course, we also support you during the go-live. Our employees ensure an optimal start according to your needs on-site or remotely.
Hypercare
After the start of your logistics solution, we will continue to be there for you in the sensitive initial phase in order to ensure the best possible operation.
MIGRATION
Logistics Migration
With Priotic as your partner, nothing stands in the way of your logistics migration. We take care of transferring processes and data from your existing system to your future SAP system. Migration of your logistics does not necessarily have to take place due to outdated software solutions. Rather, it is an opportunity to identify and utilize potentials for improvement, or to support your logistics where your existing system reaches its limits.
In order to show you these possibilities, our targeted transformation concept is constantly being expanded and optimized for you in our migration lab. Our aim is to ensure the seamless operation of your intralogistics, even after the end of the maintenance period for individual SAP modules. For this reason, we are already working at full speed to adapt your system to a future-proof solution in the best possible way. Support for the SAP WM Warehouse Management module will expire in 2025 according to SAP's announcement, so our focus is on supporting a smooth migration from existing solutions to SAP EWM.
To give you an overview of possible migration scenarios, three typical scenarios are listed below. If none of the standard methods should fit your application, we will be happy to create an individual concept for your transformation.
SAP ERP with WM to S/4HANA with Embedded EWM
You are already using SAP ERP and use SAP WM to control your logistics? You are about to switch to S/4HANA, but want to keep your established processes on the new platform?
We support you in switching to a fully integrated SAP EWM "Embedded EWM" within the new S/4HANA environment. You can flexibly determine which processes are to be retained and where you want to optimize your existing processes with innovative S/4 functionality.

SAP ERP with WM to a decentralized SAP EWM
Your company is growing faster than your logistics? Do you need more flexibility in your distribution centre due to constantly growing requirements in order to supply your customers on time?
The optimal solution is the decentralization of your intralogistics processes into a dedicated SAP EWM system. This gives you the necessary performance for your logistics. Furthermore, you are not exposed to interruptions caused by maintenance cycles of your central ERP system. If you expand, you can scale your system better and integrate new locations.

SAP ERP with WM to a decentralized SAP EWM with connection to S/4HANA
You are already planning to switch to S/4HANA, but want to make sure that your logistics are not affected when you upgrade your ERP system? You want to expand and need to be able to scale flexibly?
In the first step, your existing SAP WM module is transferred to a decentralized SAP EWM and connected to your current SAP ERP system. If you upgrade to S/4HANA at a later date, only the connection between SAP EWM and S/4HANA needs to be adjusted. This eliminates the need for time-consuming re-implementation.

MOBILE
Mobile Applications
Manage your warehouse in no time with mobile applications integrated into SAP. Together with our technology partner Flexus AG, we offer you a broad portfolio of mobile applications for your intralogistics. A large number of apps are already available for standard processes, but we are also more than willing to implement individual requirements for you. We rely on different technologies, such as SAP Fiori or ITS Mobile, to present your transactions on each end device in an ideal way.